Kolmac Integrated Behavioral Health Centers offers a unique system of relapse prevention
Addiction is a chronic disease with both acute and chronic aspects that require treatment. The experts at Kolmac have developed an effective treatment program for relapse prevention based on decades of experience.
While some addiction treatment facilities only treat the acute phase of the disease, neglecting the chronic, long-lasting issues that can lead to relapse. We start working at preventing relapse from the moment a patient begins intensive outpatient (IOP) treatment and continue to work on prevention during the continuing care phase of treatment.
Relapse prevention begins during intensive outpatient treatment
Relapse prevention is the focus of our program. During IOP, our clinicians work with patients to help them understand the triggers, behaviors and rationalizations that contribute to relapse. Patients learn how to reduce their vulnerability to triggers, recognize the signs of relapse and seek help before they begin to use substances again.
Abstinence is not only a cornerstone of treatment at Kolmac, but it is also a critical component of relapse prevention. Our experienced clinicians help patients realize that they can have fulfilling lives without using addictive substances again.
A vital part of IOP is teaching patients how to manage their triggers, both external and internal. Kolmac also teaches strategies that help patients cope from day to day. Our staff encourages patients to develop a support network, which is critical for recovery and relapse prevention.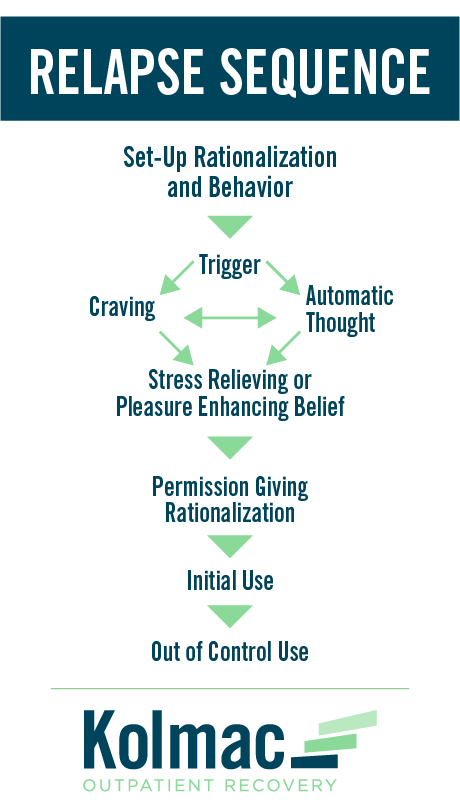 Continuing care addresses the most neglected phase of treatment
Kolmac pioneered a unique continuing care program that helps with preventing relapse. Without it, there is a high incidence of relapse.
When patients finish IOP, they enter the recovery phase that is a vital part of relapse prevention. Continuing care usually lasts for one to two years. The length of time depends on the patient. During this time, our staff helps patients develop a recovery program.
Support is another important part of recovery. Kolmac encourages each patient's loved ones to attend support groups to learn how to help their loved ones. These groups also provide the support that caregivers, family and friends need.
Continuing care combines professional treatment in weekly group therapy, community support groups for patients and support groups for loved ones. Our recovery program gives patients and their families the help they need while learning and practicing relapse prevention skills and strategies.
For more information about Kolmac's treatment program and relapse prevention, contact us.
Get Help Today!
We welcome the opportunity to help you in your road to recovery. If you'd like to learn more about Kolmac Integrated Behavioral Health Centers, contact us at:
OR